" For a long time I''ve sent my printing to The Edge - if I mentioned it is since the day The Edge began I would be giving away that I''m not really 22! If you want great printing, great friendly service and a company that care about your business, go to The Edge! "
Julie Owen
Lifeworks Photography
Melbourne, Australia
Memories Forever!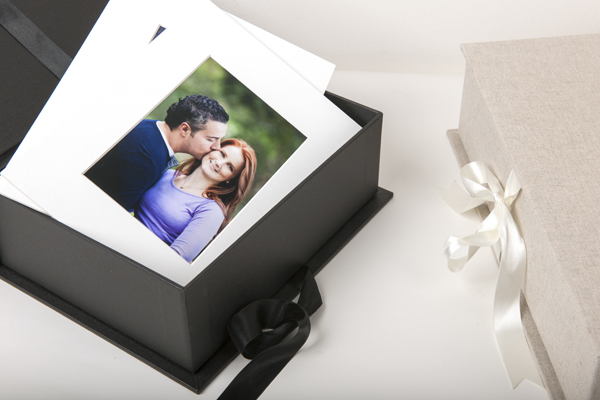 Offer the complete package to your clients that they will treasure forever and save 50% on prints when you order our Image Folio Box & 20 Mounts.
Our Image Folio Boxes are a handmade, clam shell style presentation box and are available in two sizes (8×10" or 11×14") and two different materials (black buckram or natural linen). Each Folio Box can hold up to 20 matted slip-in mounts to display your images (available in black or white).
These make the perfect gift or to add to your current studio offering, they are suitable for your wedding or portrait images, landscapes and art images.
Offer Details:
Order either an 8×10 or 11 x 14 Image Folio Box with 20 Slip in Mounts and receive 50% off* prints.
8×10" Image Folio Box + 20 Slip-in Mounts = $175
11×14" Image Folio Box + 20 Slip-in Mounts = $215
*50% off applies to 20 or more prints to suit your chosen Image Folio Box – choose either 5×7" or 8×10".
Use Edge Express to order or via our FTP upload
Enter Code: BPBOX15 in the Customer Reference field.
50% discount applies to 20 or more Studio Prints or Edge Prints (if you also require colour correction) of the same size when ordered with an Image Folio Box + Mounts.
Choose one of our professional papers – Lustre, Metallic or one of our Art Papers.
Select 5×7" or 8×10" from the size drop down menu. Ensure your image is of the same ratio to avoid unwanted cropping.
Upload your images
In the Order Instructions Window in Edge Express or in the FTP Upload please specify which combination you would like as below;

11×14 Natural Linen Folio Box – white mounts
11×14 Natural Linen Folio Box – black mounts
11×14 Black Buckram Folio Box – white mounts
11×14 Black Buckram Folio Box – black mounts
8×10 Natural Linen Folio Box – white mounts
8×10 Natural Linen Folio Box – black mounts
8×10 Black Buckram Folio Box – white mounts
8×10 Black Buckram Folio Box – black mounts

Offer ends 31st May 2015