" We love the Edge''s superior colour, quality and reliability "
Graham Monro
GM Photographics
Sydney, Australia
Why Calibrate your Display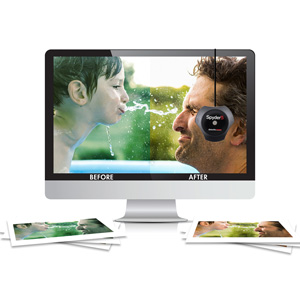 The key to receiving the best quality prints is having your monitor and our printers match.  Images can be reliably assessed and adjusted on a properly calibrated display, enabling true-to-life reproduction of image files. There are a few steps you'll need to take to ensure that what you see on your screen will be what you get back in print.
The most accurate way to calibrate and profile your monitor is with a calibration device. We recommend the Datacolour Spyder 5 Pro.
Once you have installed the software, and you enter a few initial details, you place the Spyder in the front of your monitor. The screen will display a number of coloured patches which the sensor measures. The difference between what the software sends to the screen and what is measured, is the information that the software uses for calibration and building your monitor profile.
Benefits of calibrating your display;
Displays render the same image differently: Calibration tunes your display to a reference standard and brings colour consistency across desktop, laptop, multiple displays, iPad and iPhone.
Displays change over time: Recalibration returns it to reference state for brightness and colour
Prints often do not match display: Display calibration provides a base for better print matching
Wide gamut displays may be oversaturated: Without calibration even wide-gamut displays may be inaccurate.
Highlight and shadow details may be inaccurate: Control of brightness, white point and tone response with calibration.
Image colours are not true to life: After calibration, images can be viewed and edited with confidence
It only takes about 5 minutes or so to do and we recommend repeating this process at least every 2-3 months to ensure consistency.
We cannot stress to you the importance of properly calibrating your monitor and investing in the appropriate tools will make this process a simple one.
Find out more about Datacolour Spyder 5 Pro.